We already know how art can help medical school students study, but we often do not think about how medical technology/medicine itself is considered a form of art. Pictures are worth a thousand words, and, as Silvia Casini notes, MRI scans are no exceptions. Thanks to continued curiosity for the human body as well as improvements to medical technology, humanity has seen improvements in art, such as more realistic depictions of the human body in portraits, and greater understanding of the human body that has enhanced humanity's standard of living.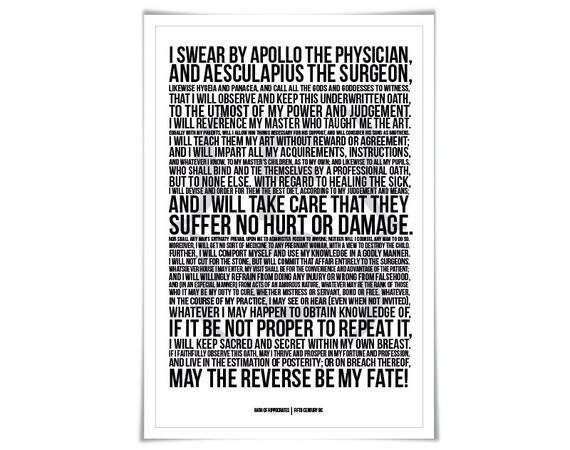 The original Hippocratic Oath, first seen in Greek medical texts. The modern oath was written in 1964 by

Louis Lasagna, Academic Dean of the School of Medicine at Tufts University.
One of the readings I found the most interesting this week was about the Hippocratic Oath. Although many doctors see oath-taking as a ritual and rite-of-passage activity upon entry into medical school, the oath still garners controversy. The modern oath states, "If I do not violate this oath, may I enjoy life and art, respected while I live and remembered with affection thereafter," seemingly separating art from medicine. I strongly disagree with this dissociation because I think creativity, and the art that results from it, is necessary in medicine/medical technology. We see this in the field of plastic surgery.
The Reincarnation of Saint-Orlan, an art project in which artist Orlan underwent a series of surgeries to incorporate aspects of famous paintings/sculptures onto her face
http://www.looklateral.com/en/artist/orlan/
Through cosmetic plastic surgery, people can now transform themselves into a work of art. We see this through Orlan's plastic surgery art project, where she went under the knife to have the chin of Botticelli's Venus, the nose of Jean-Léon Gérôme's Psyche, the lips of François Boucher's Europa, the eyes of Diana, and the forehead of Leonardo da Vinci's Mona Lisa. Orlan may be an extreme case, but her work clearly demonstrates how medical technology can be analogous to an artist's tools, sculpting and sketching to create something completely new, different, and even cringe-worthy. Additionally, Orlan's project can also be used as a talking point about our society's standards of beauty. I use the phrase "work of art" loosely, for our standards of beauty always change. Thus, while we have the technology to do so, to pursue beauty in the ways greater society defines it will always leave people disappointed.
Casini, Silvia. "Magnetic Resonance Imaging (MRI) as Mirror and Portrait: MRI Configurations Between Science and Arts." Web.
Lawrence, Hannah. "This Med Student Makes His Own Comics To Help Him Study." BuzzFeed. Buzzfeed. Web.
Oriach, Stephan. "Orlan--Carnal Art." Documentary. YouTube.
Tyson, Peter. "The Hippocratic Oath Today." PBS. PBS. Web.
Vesna, Victoria. "Medicine pt. 2" Lecture. Web.
Vesna, Victoria. "Medicine pt. 3." Lecture. Web.